Your Partner in E-Waste Management Services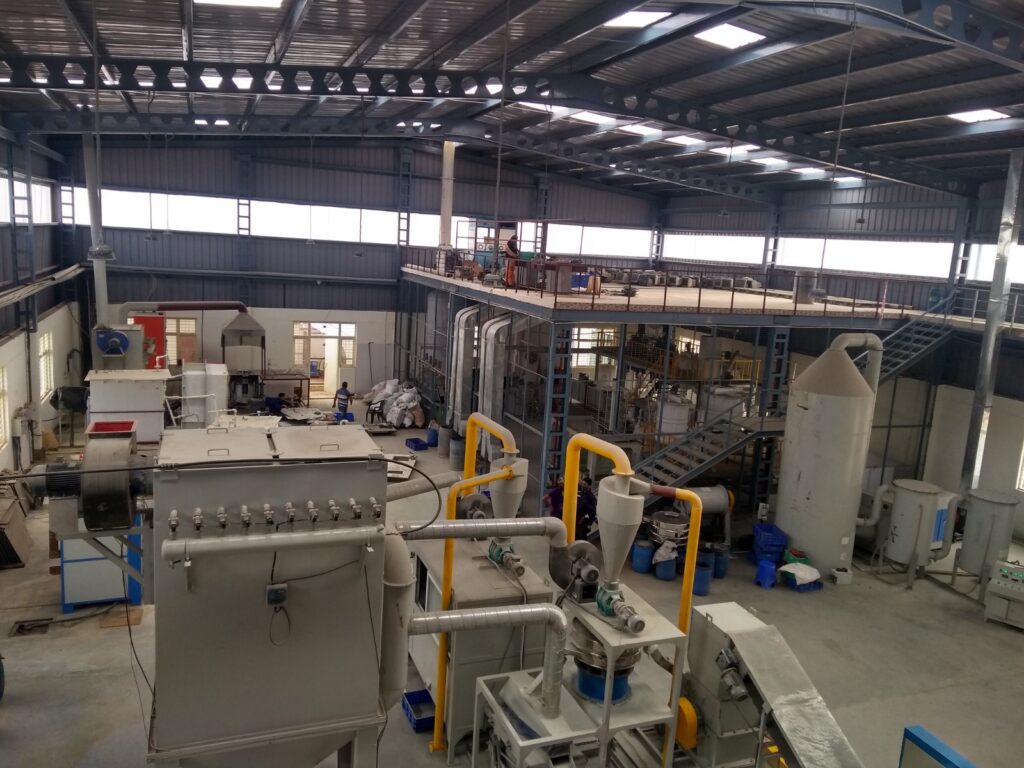 01
About Us.
The word 'Adatte(आदत्ते)' means 'reclaim' in Sanskrit, an ancient Indian language. The logo of Adatte is a symbolic representation of 'Delta' in physics, which means change. With the chosen technology and our data driven approach, we want to change the electronic waste management in India.

At Adatte, we are working towards United Nations Sustainable Development Goals,

11. Sustainable Cities and Communities
12. Responsible Consumption and Production

Our motto of "Data Driven Urban Mining" leverages the latest technologies to offer quality service to our clients with real-time tracking of recycling and cloud-enabled compliance platform.


02
Our Service
We understand your requirement and provide quality works.
Collection
We offer collection service across India for all Corporates, Educational Institutions, Producers, Manufacturers, SMEs, Government Agencies, etc.


Dismantling
We dismantle your e-Waste into plastic, metal, glass, printed circuit boards, etc.



Recycling
Our core specialisation is recycling of Printed Circuit Boards and other metals to recover ferrous, non-ferrous and Precious Metals.


EPR Fulfilment
We help producers meet EPR target, including recycling.




Data Sanitization
Data is critical to an organization. We offer on-site and off-site data destruction.



Our Safer and Greener Process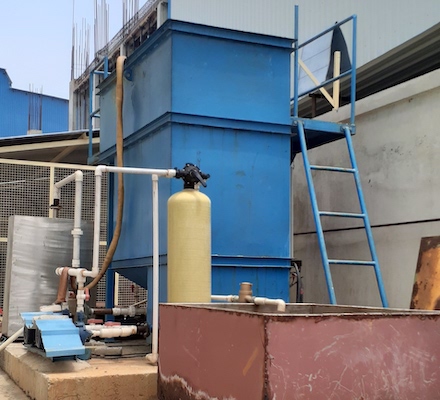 03
Our Team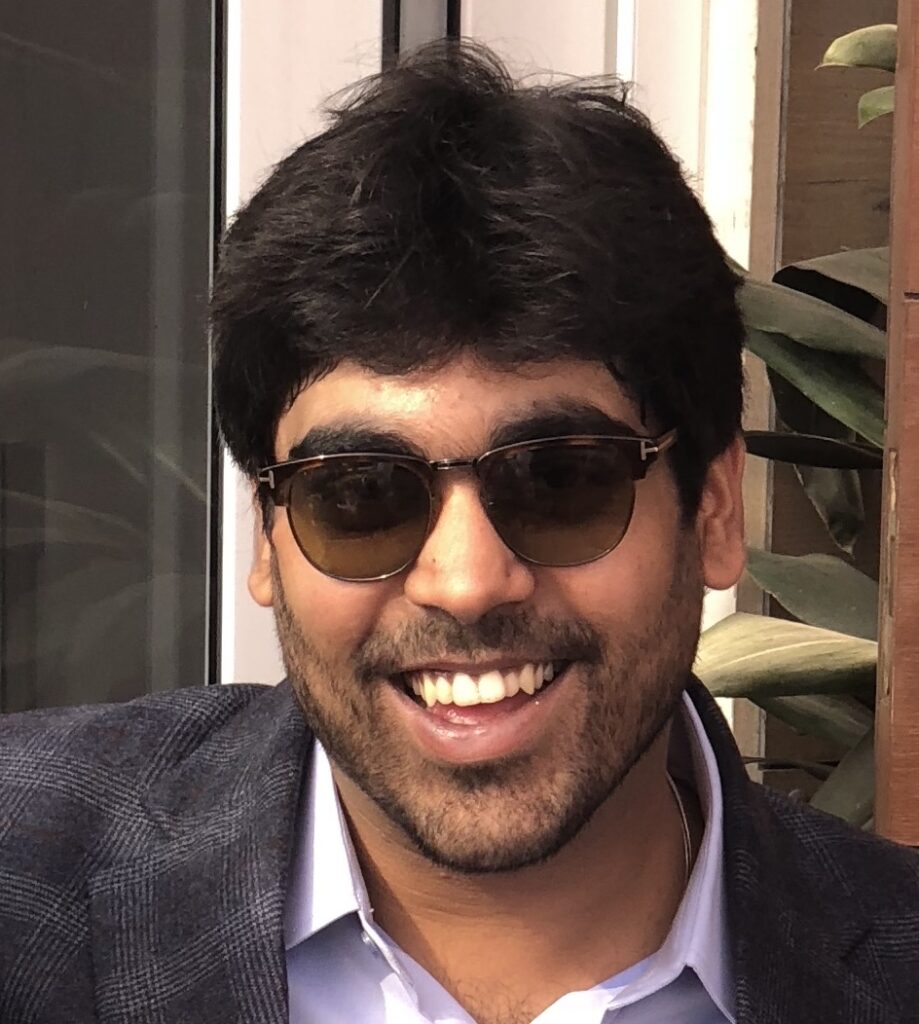 Abhimanyu Ajay Mehra
Co-Founder, Operations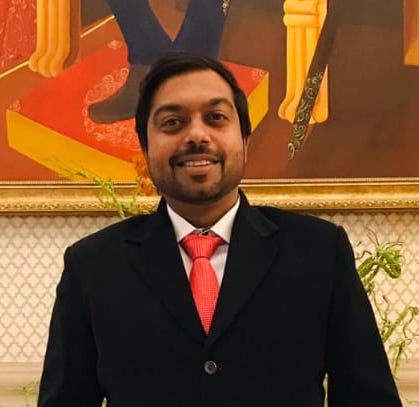 Mehul Jaiswal
Compliance & Infrastructure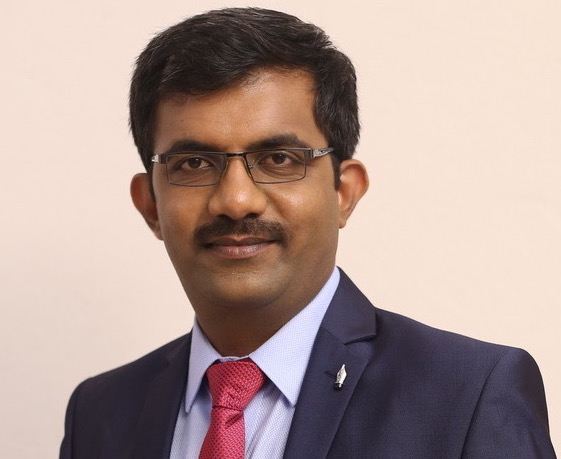 PraveenKumar S
Co-Founder, Business Development





04
Our Capacity & Eco-Efficiency Metrics
1825 Tons
Recycling Capacity
100%
Recycling Guaranteed
540 Tons
Carbon Emission Saved
93%
Lesser Water for metal recovery compared to Virgin Mining
90%
Lesser Power consumption for
metal recovery compared
to Virgin Mining
87%
Reduction in Carbon Footprint compared to Virgin Mining
05
Material Handled
Following are the menu for our machines
Laptop
Desktop
Monitor
Smartphone
Phone
TV
Printer
Scanner
Server
Speaker/Music System
Refrigerator
Washing Machine
Air Conditioner
Toaster
Microwave
Air Purifier
Water Purifier
Air Cooler
Steamer/Iron Box



The List goes on…
Head/Ear Phones
Charger
Battery
UPS
Lights
Cables
CCTV & Peripherals
Printed Circuit Boards
Geyser
Router/Modem
Photovoltaic Cell
06
Why us?
One-Stop Shop Solution
We offer an integrated end to end e-waste solutions ranging from collection to dismantling & recycling.
Authorized Dismantler & Recycler
We are not only an authorized dismantler but also an authorized recycler. We are the top recycler in India.
ISO Certified Co.
We are an ISO 9001 and 14001 certified company.
On-site and Off-site Data Destruction
We offer both on-site and off-site data destruction with all compliance formalities.
Quick Service
We offer service with quick turn around time. We offer customized service to meet with your compliance deadlines.
Compliance Guaranteed
We comply with E-Waste Management Rules 2016.
> Built-up Area – Met
> Our Process – Govt. Approved
> Zero Liquid Discharge – Met
> Air & Water Pollution Control Measures – Met
Real-Time Tracking
You can track the progress on your e-Waste in real-time. Our cloud platform made tracking simple and download all the compliance documents.
Certificate of Recycling
We issue Certificate of Recycling for your e-Waste on completion of our 3 stage process – Dismantling, Segregation and Recycling.
Pan India Service
We offer our service across India through our direct network and partners.
Some of Our Clients & Partners
Start your journey with us now
07
Awards/Recognition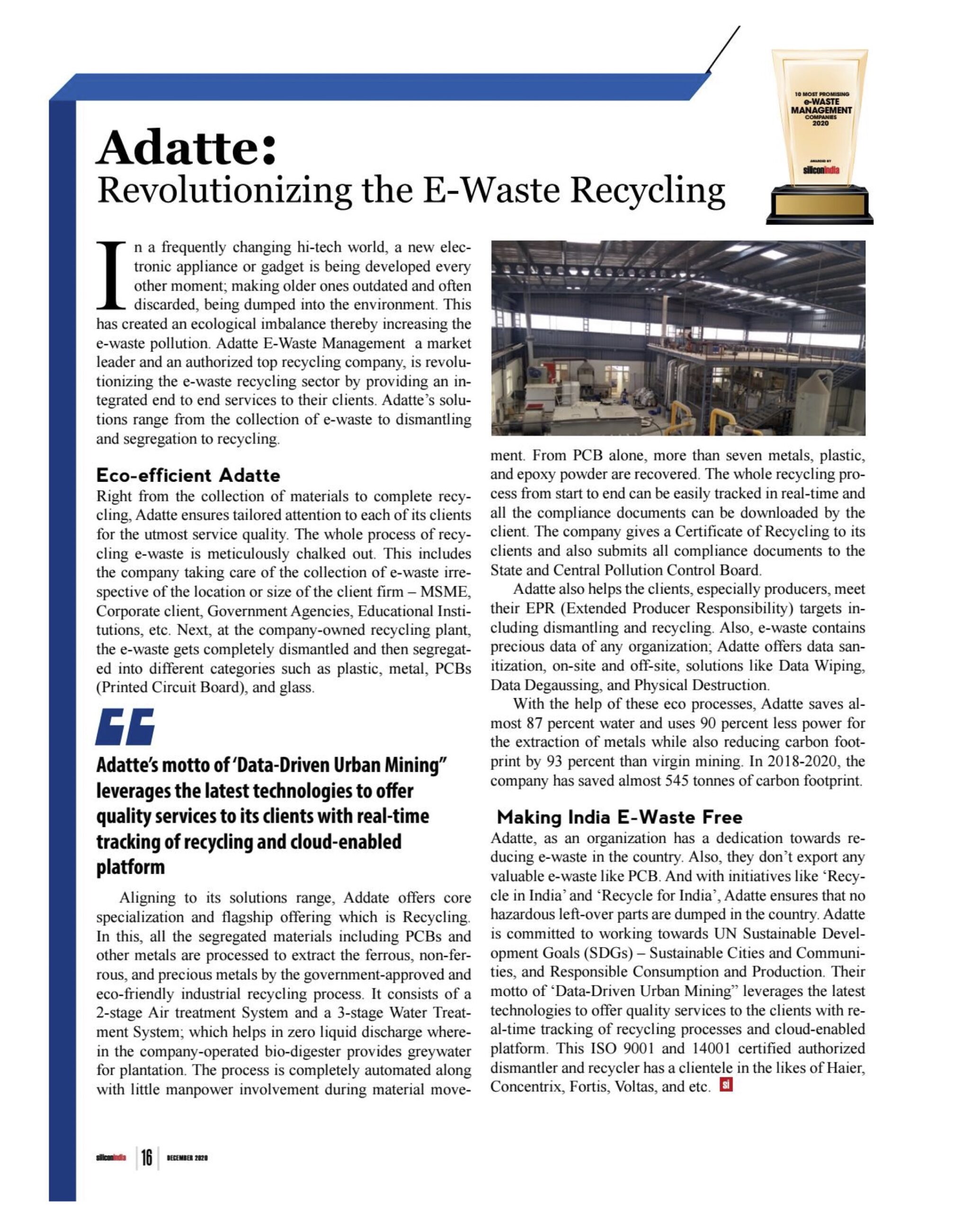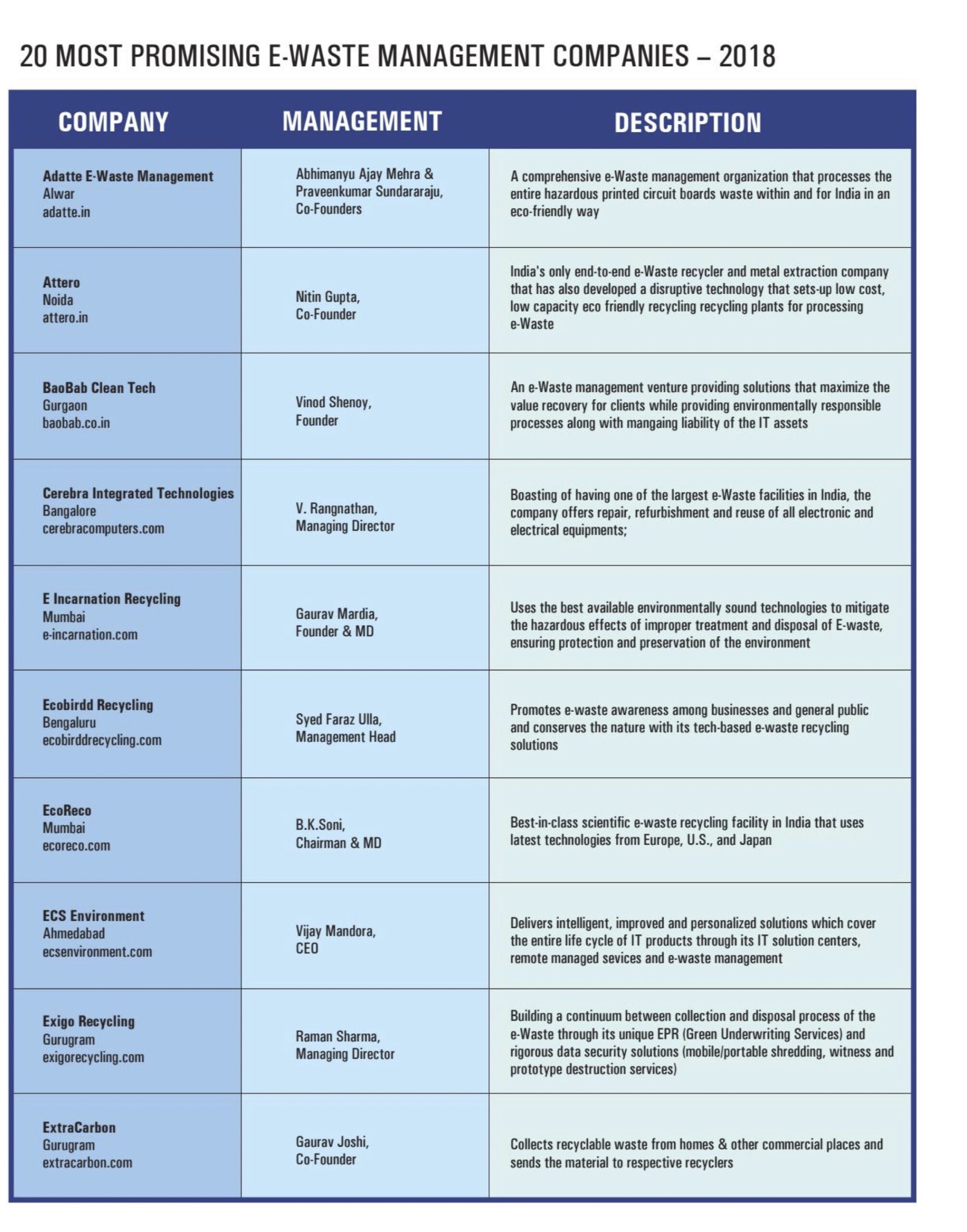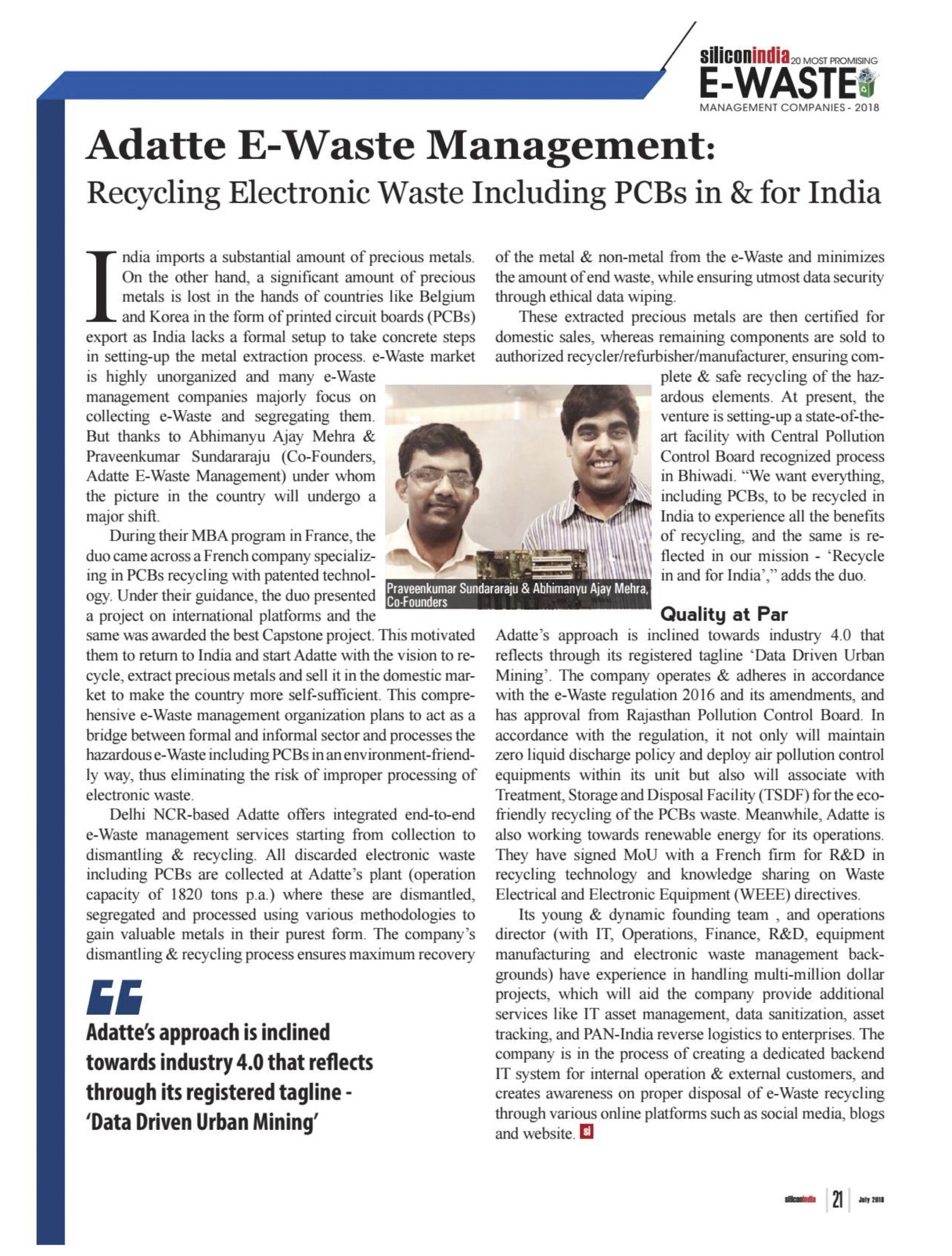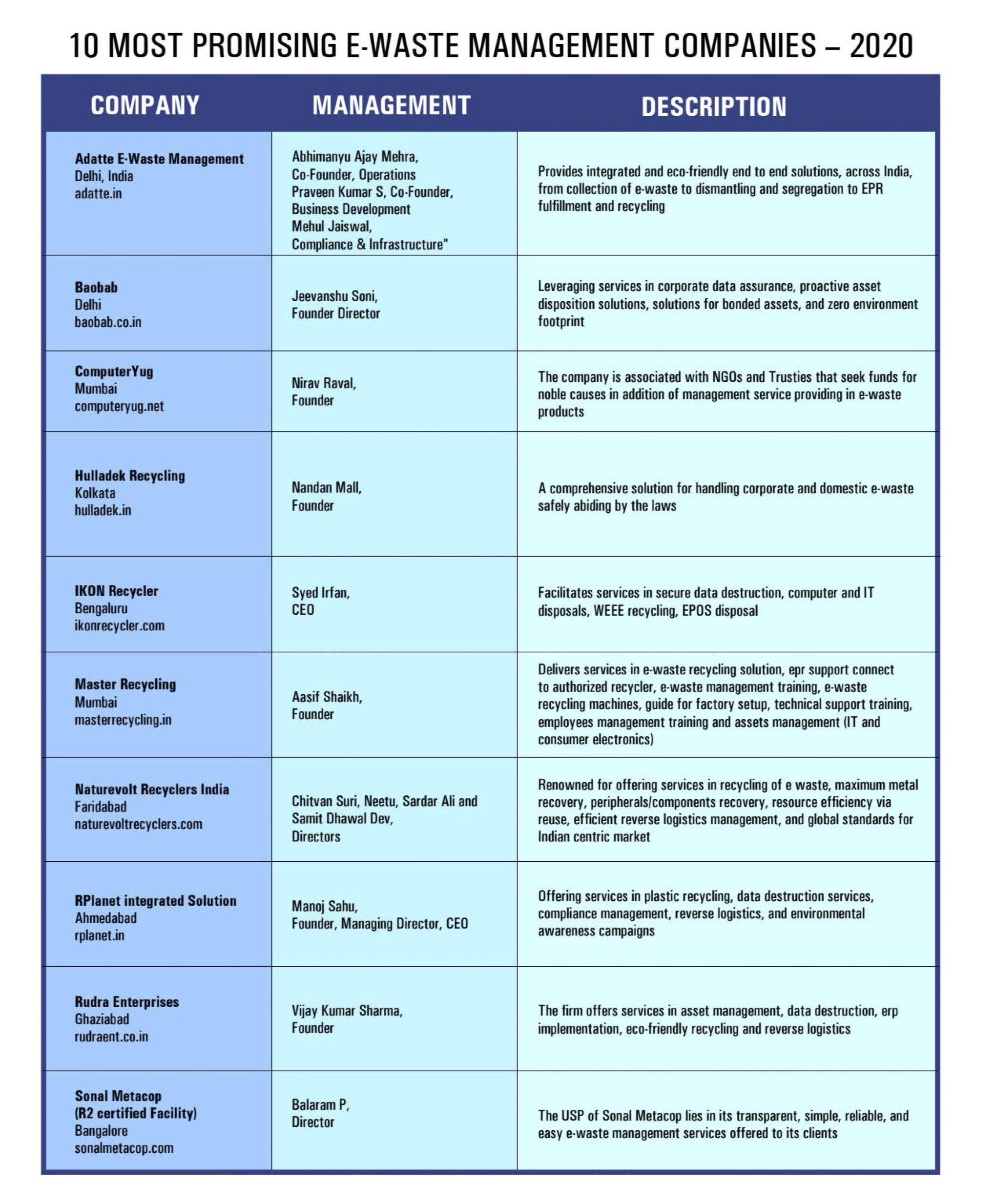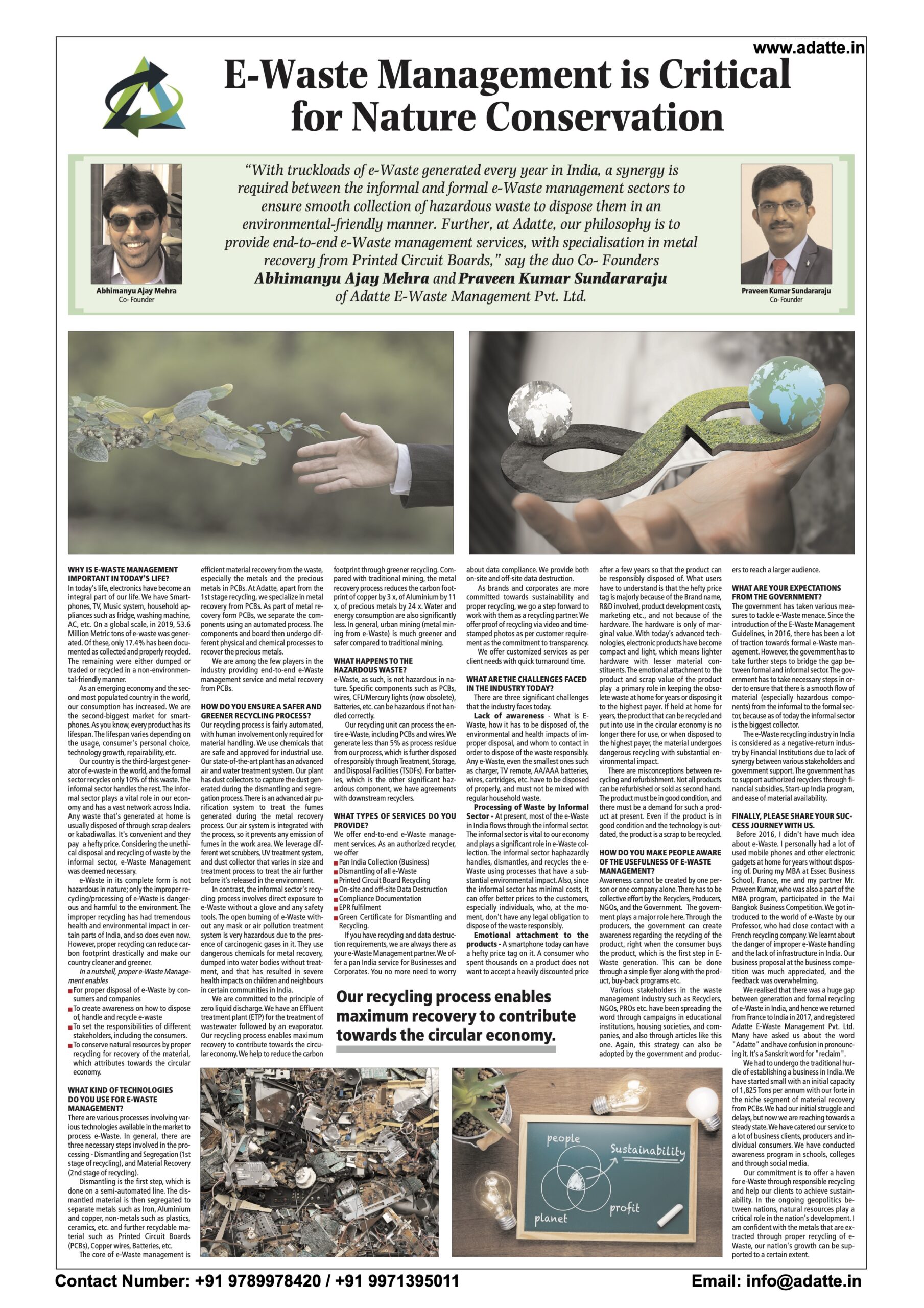 08
Our Blog
Clickable button – Takes you to the Knowledge Area
09
Get in Touch
Leave a message or reach to us directly.
Email: info@adatte.in / Contact Number: +91 9789978420 / +91 9971395011